MM Innovations, LLC
1814 E. Susquehanna St - REAR
Allentown, PA 18103
610-791-AUTO (2886)

Backup Systems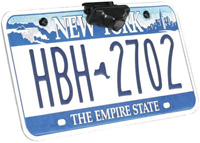 Reverse Backup Cameras & Monitors
Back up safely
Protect your family and others from injury
Avoid property damage
Avoid vehicle damage
Reduce blind spots
Automatically turns on when put in reverse
Flexible mounting and viewing options
Backup cameras make driving safer as it allows you to see objects out of your normal field of vision when backing up. There are many different options available to fit your budget. Some of the camera options include a simple license plate mounted camera shown above, to a hitch mounted camera, or for some applications even a custom mounted tailgate latch or third brake light camera.
We offer many different viewing options as well. A simple dash or windshield mounted monitor for those who want to keep it simple. An in-mirror display as seen below which is popular as OEM equipment on many new vehicles is a great option as well. The rear view mirror solution can be expanded to include handsfree bluetooth and navigation if you upgrade to the Azentek Smart Mirror! We can also feed the reverse video in to many OEM or aftermarket navigation screens.
With so many different cameras, monitors, and vehicles there is no universal option that works great on every car. Feel free to give us a call and let's discuss what options would be the best fit for your vehicle. Serving the Lehigh Valley and surrounding areas.