MM Innovations, LLC
1814 E. Susquehanna St - REAR
Allentown, PA 18103
610-791-AUTO (2886)

Power Locks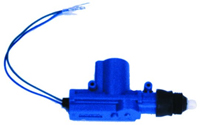 2 or 4 Door Power Lock Systems
Add central locking to any vehicle
Lock all doors with the push of a switch
If you saved a bundle buying a stripped down car and you want to add the convenience of having power locks, we can help! Let us install door actuators with a keyless entry system in your 2 or 4 door vehicle so you don't have to use the key to get in anymore.
The most important choice when adding power locks to a vehicle is who will be installing them. There is no "easy" way to add power locks to a vehicle that doesn't have them. You have to remove all the door panels, then run wires from the cabin through the door jamb boot and into every door in the vehicle. You also need to securely mount all the actuators, attach the rods to the vehicles existing lock hardware, and then adjust everything. Improper actuator installation will be a nightmare down the road as you will continually have to return for adjustments and to replace seized actuators.
Whether your vehicle has standard rod installation like a Chevrolet Cobalt, or a cable system like a Ford Focus, we can add central locking to it! Would you like to add power locks to your Jeep Wrangler and still have the ability to easily take the doors off? No problem! Give us a call for a nice clean installation that will add the convenience of power locks without all the potential headaches.